Regardless the brands, all machines under 10 years are accepted. The machine has to be obligated to installment and provided with vehicle registration certificate. Both mint-condition and broken machines are welcome. We gladly offer you a new machine for your better, high-technology work operation.
For your worthy investment, we kindly give you advices #WorthIT #WorthInvesting whether it be small excavator, drill rig, wheel loader, road roller, backhoe, and vehicles for construction work.
TRADE-IN
bring your old machine with good price and get a new one
Fast approval processes, support all the cases, uncomplicated documents – We accept all brands and will provide you a "SANY" one in return.
1. Plate registration certificate/ sale contract/ quote
2. Tax invoice, company registration certificate (in case of a company)
3. Copy of ID card, Copy of house registration (in case of a natural person)
4. Vehicle inspection certificate + trading photos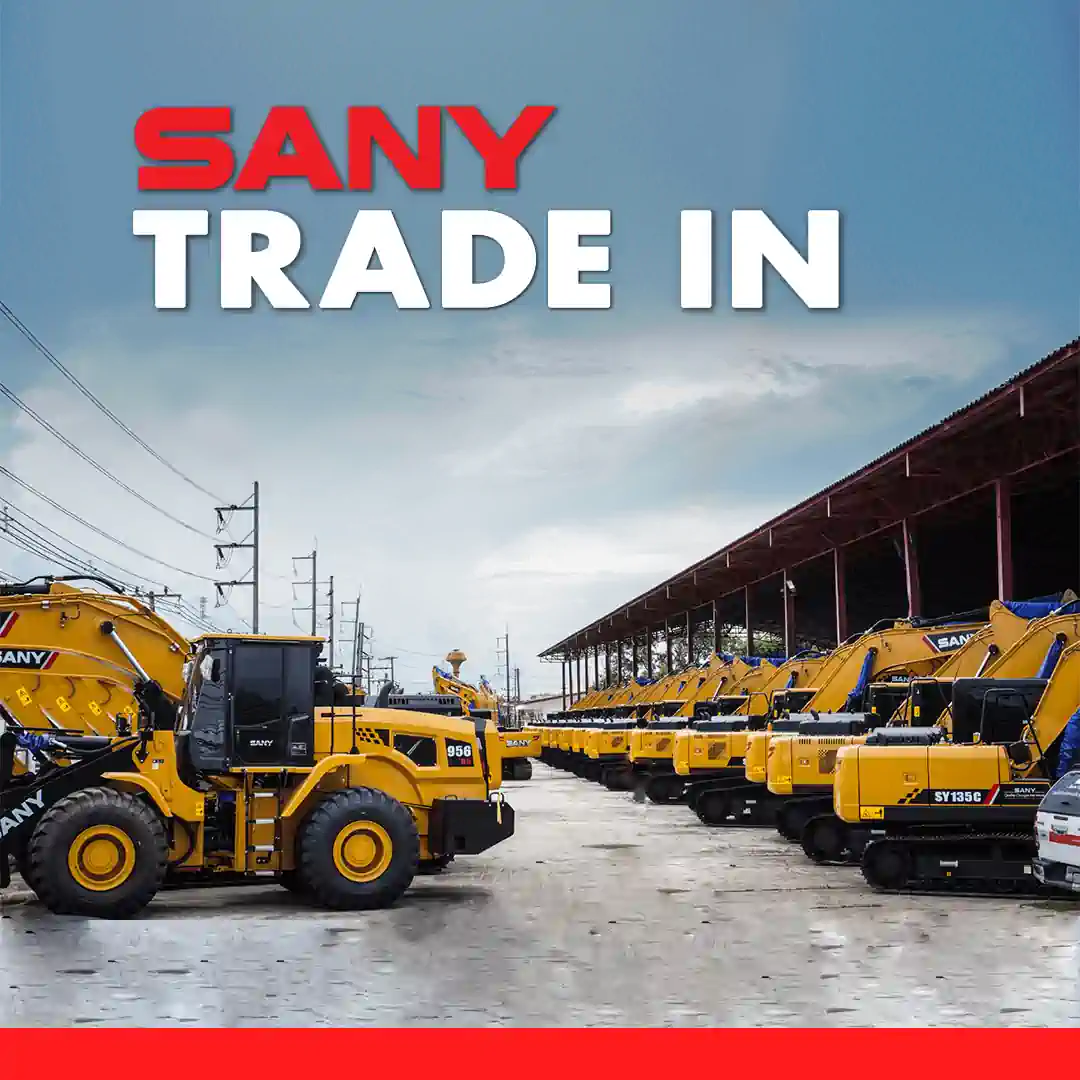 Trade-In Leave the old one
Leave the old one, get a new one as you wish to gain better trust in the efficiency of your work
At SANY THAIYONT, we provide sell and return machine service - just bring your old machine and buy a new one from SANY. The process is as simple as it sounds: Take a photo/video of your old machine and contact us. Our sale worker will reach you back only in just within 5-7 days.
Contact Tel. 061-6363588
Email: salescenter@maxsany.co.th
"SANY Thaiyont Co., Ltd.", the only sale distributor of SANY in Thailand that provides hard equipment for earthwork operations and civil engineering-related work, was founded from the jointly owned business between SANY Heavy Machinery, SANY Asia Pacific and Thai Yont Equipment Co., Ltd. which is an affiliated company of Thaiyont Tractor Co., Ltd., the leader of heavy machinery in Thailand with years of experience, founded in 2013.
Currently, there are 4 types of products available in Thailand: hydraulic excavator, wheel loader, and drill rig. Our goal is to expand the market, find the best products and offer the best after-sales service to customers.
SANY has been always believing in the quality of our products and service. For customers' business and a better world for all, we dedicate ourselves to developing heavy machinery for earthwork operations and civil engineering-related works with world-class standards and a reputation for fuel-saving engines, toughness, and worthy prices. This allows our sale record to reach the first rank in China and business expansion abroad in 150 countries worldwide. we run our business with the philosophy that "quality changes the world". With this vision, we are gaining more recognition and our sales record of heavy equipment has risen to first place in the world.
As for Thailand, even though the business is quite new, SANY Thaiyont is still yet able to greatly succeed in 2018 with a sale record of more than 1,000 million baht or a growth rate of 100% in comparison to the previous year. We stepped up to 5th place in the heavy machinery market and we still keep growing every year. Until nowadays, we are No.1 in Thailand.